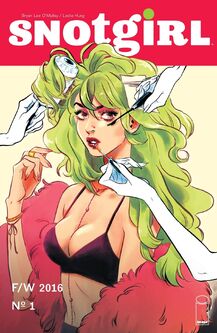 Snotgirl is a comic series published by Image Comics written by Bryan Lee O'Malley and illustrated by Leslie Hung which started in July, 2016 and is still on-going.
It is notable for being O'Malley's first written work not also drawn by himself, as well as being his first bi-monthly series.
Snotgirl currently has 15 issues, the most recent being released on March 11, 2020 and three completed volumes editions.
Snotgirl follows fashion blogger Lottie Person, who is polished in public but a mess behind the scenes. Pining for her ex, and plagued by allergies, Lottie tries to cope with a disconcerting turn of events when a new friendship goes awry.
Community content is available under
CC-BY-SA
unless otherwise noted.